---
STAND DIFFUSORI
---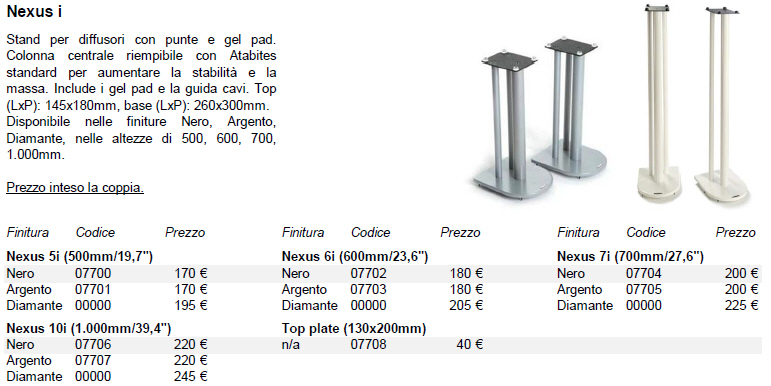 ACATAMA STAND NEXUS Per offerta e promozioni TELEFONA /E-MAIL

The award winning Nexus range of speaker stands offer unparalleled quality at such a low cost. Atacama has always been known for offering customers outstanding value for money and the Nexus is no exception. The complete stand is manufactured from heavy gauge steel and the assembly is made using upgraded high tensile fixings to maintain optimum rigidity. For improved performance, the centre column is designed to be mass loaded with the optional Atabites while Isolation Gel pads are now included as standard. The top plate is manufactured from 4mm thick steel plate and carpet spikes are included. All four models have identical top and base plates, with optional smaller top plate packs available in two sizes of 130mm wide by 200mm deep, or 130mm wide by 130mm deep.
---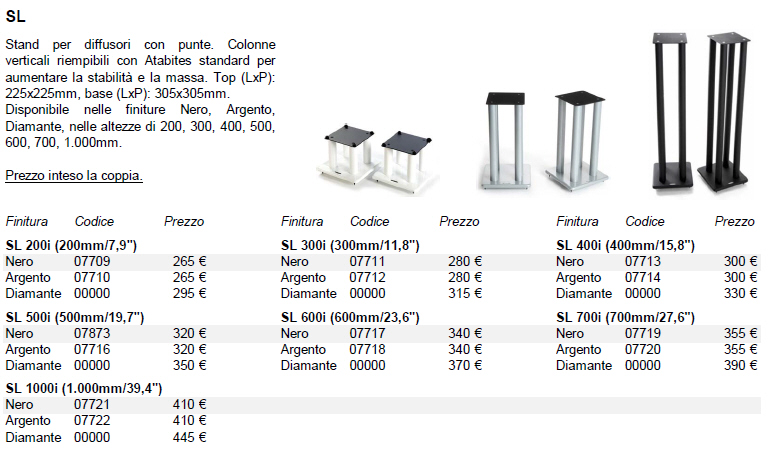 ACATAMA STAND SL Per offerta e promozioni TELEFONA /E-MAIL

The SL Series is our professional range of speaker stands and caters for when a larger top plate is required.Available in Silver,Black and graphite. We rcommend that each pair are filled with Atabites in order to make them as sonically "dead" as possible. Our isolation gel pads can also be retro fitted should you not wish to use top spikes.Floor spikes are included as standard with the option of spike shoes,if required.
---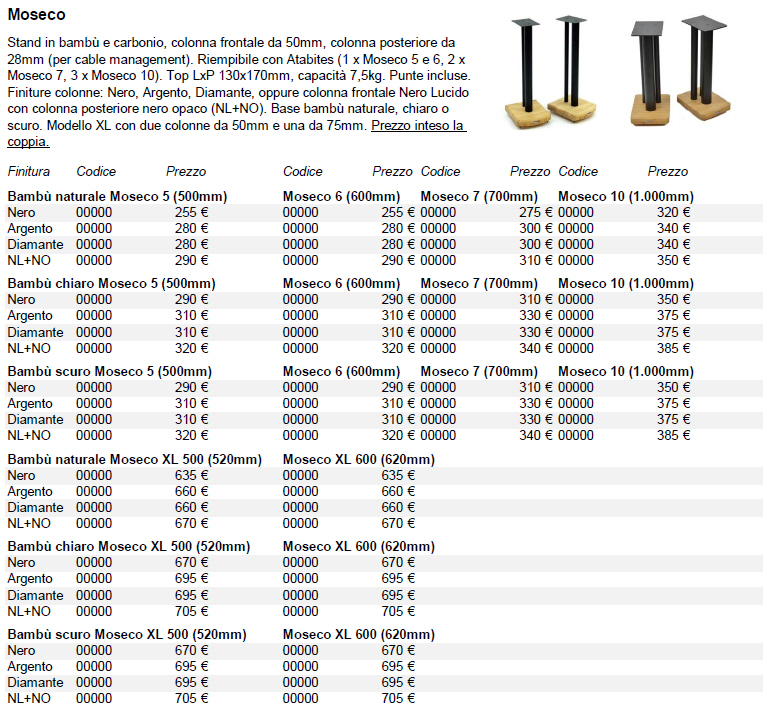 ACATAMA MOSECO Per offerta e promozioni TELEFONA /E-MAIL

The Duo 7 speaker stands are perfect for medium sized bookshelf speakers and are available in a choice of either Satin Black, Metallic Silver, Diamond White and Rosso Red finish. They offer excellent value while still offering features such as cable management, hidden floor spikes and mini isolation gel pads as standard.The slightly shorter version was reviewed in HIFI CHOICE MAGAZINE May 2011 and was a 5 STAR AWARD WINNER- GROUP TEST WINNER! All Duo's can accept the optional Atacama Mass Loading Plate to aid stability and improve sound deadening, and the Duo 7 main column can be mass loaded with Atabite filler which will dramatically improve there sonic performance ( 1 tub recommended per pair) The inclusive Mini Isolation Gel pads will protect the base of your speakers, reduce the chances of slippage and offers a level of isolation and dampening between the 2mm steel top plate and speaker. All Atacama Duo's are supplied in pairs and are made in the UK.Duo 7 Specification H x 700mm (27.6") W x 250mm (9.8") D x 300mm (11.8") Top Plate W x 130mm (5.11)"D x 170mm (6.7") Maximum speaker weight 30 KG per stand. Atacama recommend Atabite inert filler to achieve maximum sonic performance. Up to 12.2KG can be used per pair.
---

ACATAMA STAND HMS Per offerta e promozioni TELEFONA /E-MAIL
HMS Serie di riferimento in grado di abbinarsi a praticamente qualunque diffusore da supporto, grazie alla massa maggiorata del 25% rispetto alla serie SL. Nella confezione sono comprese le punte.


Supplied as a pair.The Atacama HMS 1.1 (High Mass Stand 1.1) was developed in conjunction with ProAc, Britain's premier speaker manufacturer. They are designed for when a reference quality monitor style speaker stand is required. This new 1.1 update has a larger round centre column allowing increased Atabite sound deadening capacity. All three columns are designed to be mass filled.Height 507mm, (excluding floor spikes) Width 250mm Depth 300mm Top plate: width 145mm, depth 210mm. Atacama recommend Atabite SMD-Z7.5HD filler to achieve maximum sonic performance. Up to 35.8KG can be used per pair.Diamond White, Silver Metallic and Rosso Red colour finishes are available as a cost option
---
STAND PER CANALE CENTRALE
---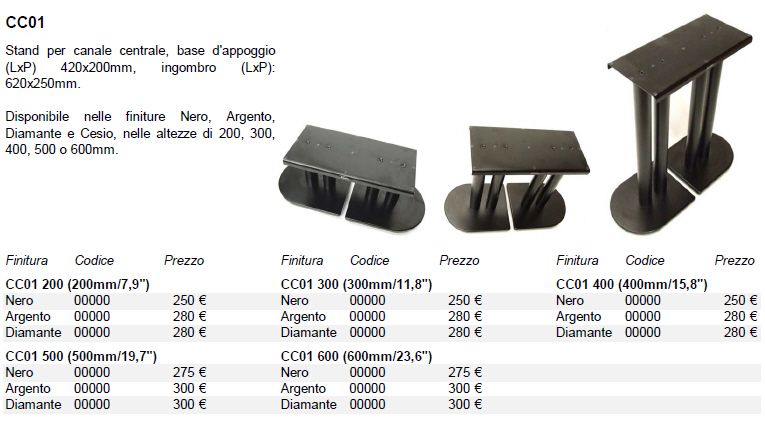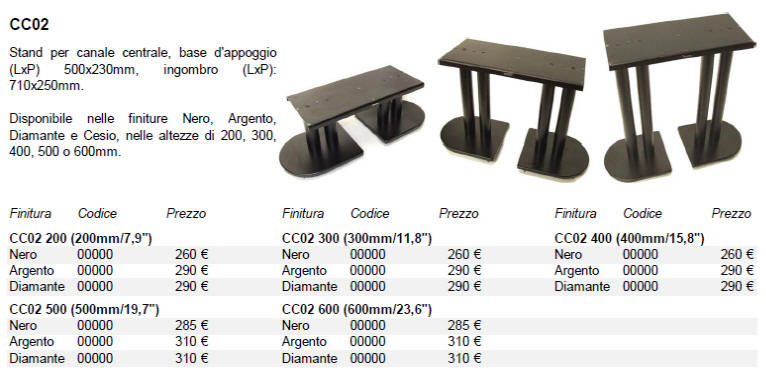 ACATAMA STAND CC Per offerta e promozioni TELEFONA /E-MAIL
---
TAVOLINI
---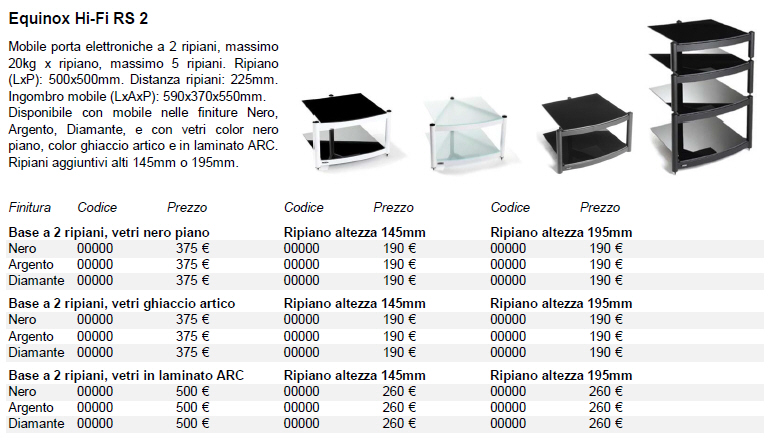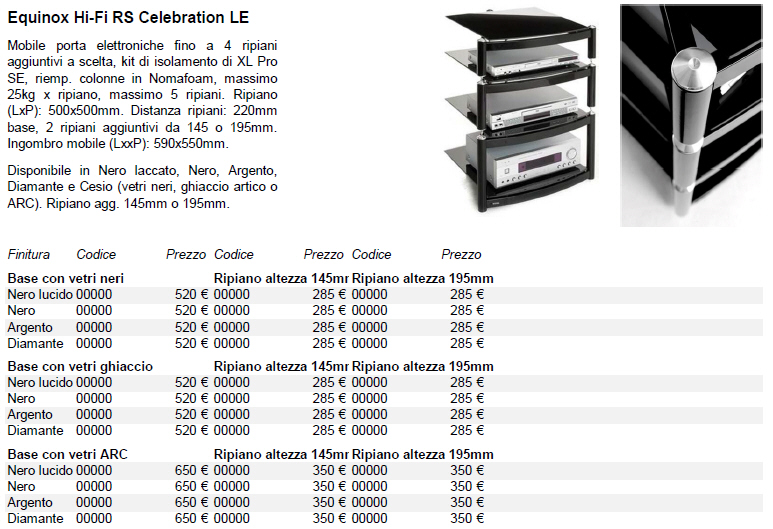 ACATAMA EQUINOX Per offerta e promozioni TELEFONA /E-MAIL
Equinox Hi-Fi Piano Black Glass Mobile porta elettroniche a due ripiani, massimo 20kg per scaffale, massimo 5 scaffali.Ripiano (LxP): 500x500mm.Distanza ripiani: 225mm e 180mm.Ingombro mobile (LxAxP): 590x600x550mm. COLORE NERO-GRAFITE -ARGENTO -COLORE VETRI nero piano, color ghiaccio artico.
---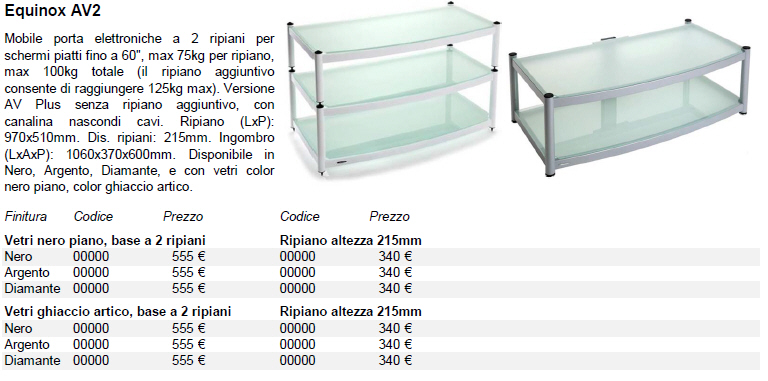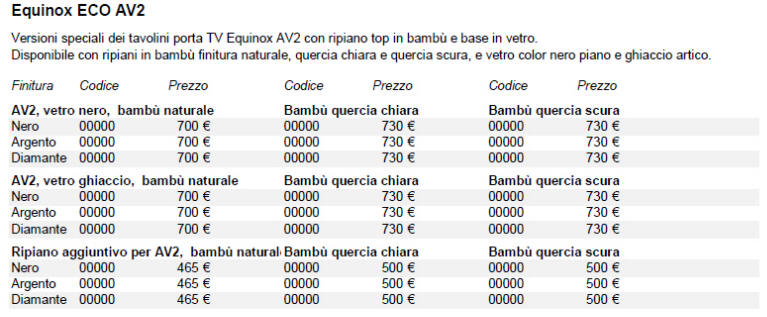 ACATAMA Equinox AV Per offerta e promozioni TELEFONA /E-MAIL
Equinox AV Piano Black Glass Mobile porta elettroniche a due ripiani, in grado di supportare pannelli plasma fino a 60" (carico totale per ripiano di massimo 75kg, carico totale dell'intero supporto 100kg, carico totale dell'intero supporto con ripiano addizionale 125kg). - - COLORE NERO-GRAFITE -ARGENTO-BIANCO DIAMANTE -COLORE VETRI nero piano, color ghiaccio artico.

The Equinox AV base and shelf combo pack is the most cost efficient way of owning this modular multi-award winning AV storage solution. The Equinox AV rack is a double width british built rack which will support all your AV equipment including up to a 60" flat panel TV.The Equinox range has won many awards including What Hi-Fi sound & vision magazine accessory of the year Award 2008 along with SVI Magazines best overall winner 2008 for furniture and TV mounts.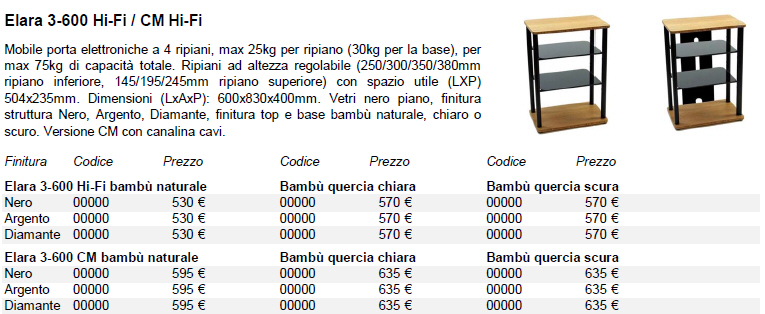 ACATAMA ELARA Per offerta e promozioni TELEFONA /E-MAIL
Offering superb value, a smart modern design and adaptable storage capabilities, the all new ELARA 3-600 Hifi rack is perfect for the hifi enthusiast looking for a quality audio equipment support solution. Four levels of storage are available in the form of two outer Medium Finish Bamboo composite shelves and two height adjustable 6mm thick Piano Black toughened glass inner shelves. The Racks frame is available in three colour finishes; Satin Black, Silver Metallic or Diamond White. ELARA 3-600 HiFi racks are made in the UK. Bamboo is a natural product so slight colour veriations between panels may be apparent.
---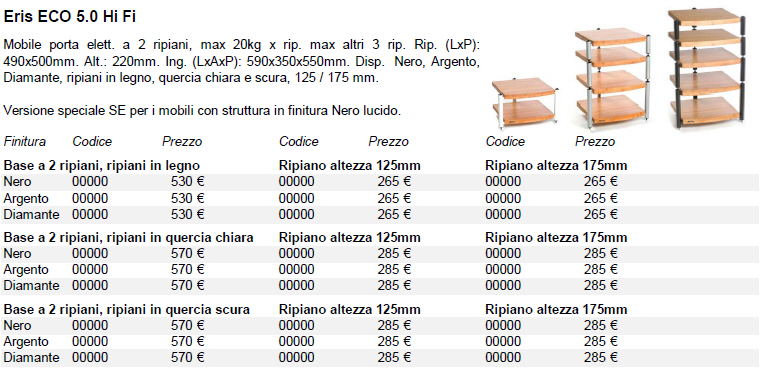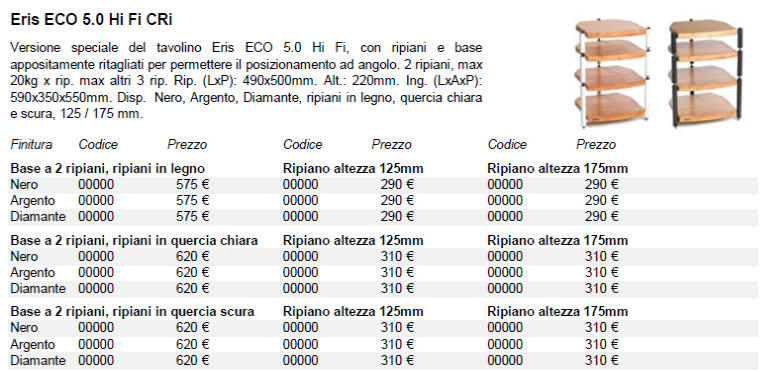 ACATAMA ERIS Per offerta e promozioni TELEFONA /E-MAIL
This is a ERIS ECO 5.0 base module with a storage gap between the 2 shelves of 200mm.Up to three additional single shelf modules with a choice of 175mm or 125mm leg heights can be added as required.WHAT HIFI? SOUND AND VISION magazine "BEST EQUIPMENT SUPPORT" WINNER 2012 and 2013.Featuring high density carbonised bamboo resin composite material for the shelving, The ERIS Eco 5.0 Hi Fi utilises handmade fully welded powder coated steel frame modules fitted with mini isolation gel pads designed to decouple the framework from the supported bamboo panels. Each module is then isolated from the next via three fully adjustable 8mm carbon steel spikes. To help further dissipate sonic resonance while reducing mass within each shelf, channels have been incorporated into the underside of each bamboo panel. These channels also act as a means of enclosing the main module framework resulting in a Hifi support that offers excellent value, high performance and a clean, stylish modern design. Eris ECO is made in the UK.Please note:- Bamboo is a natural material so colour, texture, grain and age may give a variable appearance to each shelf. Because of this, adding an extra shelf at a later date will introduce a Batch / colour tone difference. Where possible order your Eris as a complete modular support with enough levels to fulfil possible future requirements in order to minimize this variation.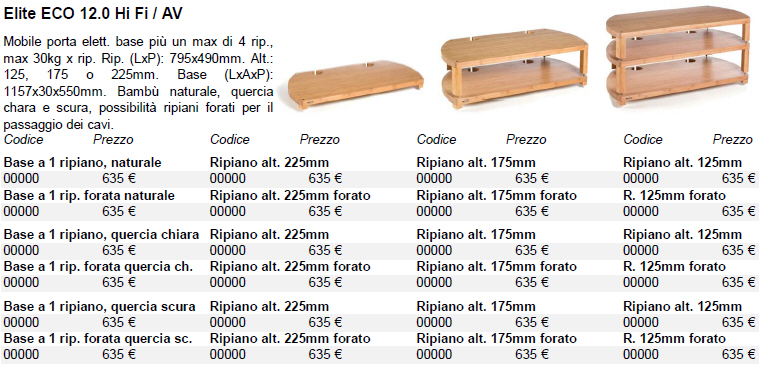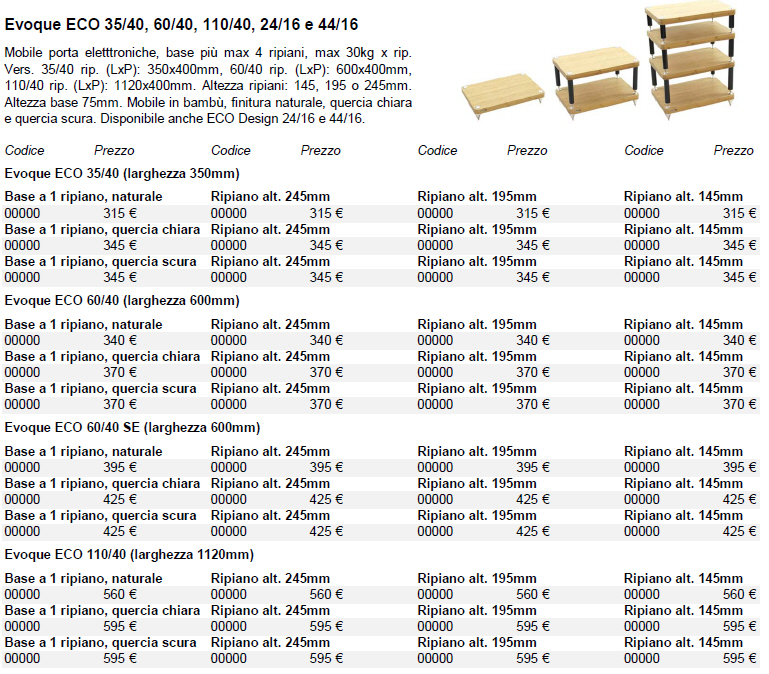 ACATAMA EVOQUE Per offerta e promozioni TELEFONA /E-MAIL

NOTE- PRICE SHOWN IS FOR A TYPICAL NATURAL BAMBOO FINISHED SUPPORT CONSISTING OF A BASE MODULE AND ONE OF EACH OF THE THREE AVAILABLE SHELF HEIGHT MODULES (GIVING A TOTAL OF FOUR LEVELS OF SUPPORT). The final cost is dependent on the number of modules selected. Select the number and combination of modules required and the total price will be calculated and shown in your shopping cart. Due to high demand, please allows up to 10 working days for delivery. The Evoque Eco 60-40 modular support features 40mm Carbonised Bamboo shelves with a choice of three interchangeable leg heights capable of supporting equipment up to 30kg per level. The black high gloss legs are equipped with A.S.I.S.T (Atacama Sonic Isolation System Technology) in the form of dampening gaskets and aerospace grade isolation components matched to full adjustable nickel plated 8mm steel spikes. These components are designed to dampen then channel high frequency resonance reflection away from the shelves allowing supported AV components to deliver maximum performance. PLEASE NOTE- As well as the 145mm, 195mm and 245mm standard shelf heights, a seperate 300mm leg only accessory pack can be purchased seperately. This leg pack is interchangable with ANY of the standard height shelf modules. Please contact the Atacama sales desk for more details regarding this pack. Atacama high density carbonised bamboo gives significant major sonic qualities when compared to traditional hardwood and veneered supports, with its unique micro growth pore structure offering both vibration absorbing and sound dampening properties. Each Bamboo module is cut, finished and then polished by hand at the UK based Atacama factory so giving a stylish, modern appearance. ADDITIONAL BENEFITS Ecologically sustainable- Being a grass, bamboo is one of the fastest growing plants on the planet that when harvested will continue to grow allowing a new crop every 5 to 7 years. Because of this fast renewable growth, bamboo absorbs high levels of CO2. -Carbon Neutral- Because of its fast growth rate and high CO2 absorption, when factoring in processing, manufacturing and shipping bamboo remains a Carbon neutral material. -Animal friendly- The type of bamboo plant used in the Construction of Atacama supports is not a food source for humans or endangered animal species (Panda friendly!). Please note:- Bamboo is a natural material so colour, texture, grain and age may give a variable appearance to each module. Evoque ECO is made in the UK
---
ACCESSORI
---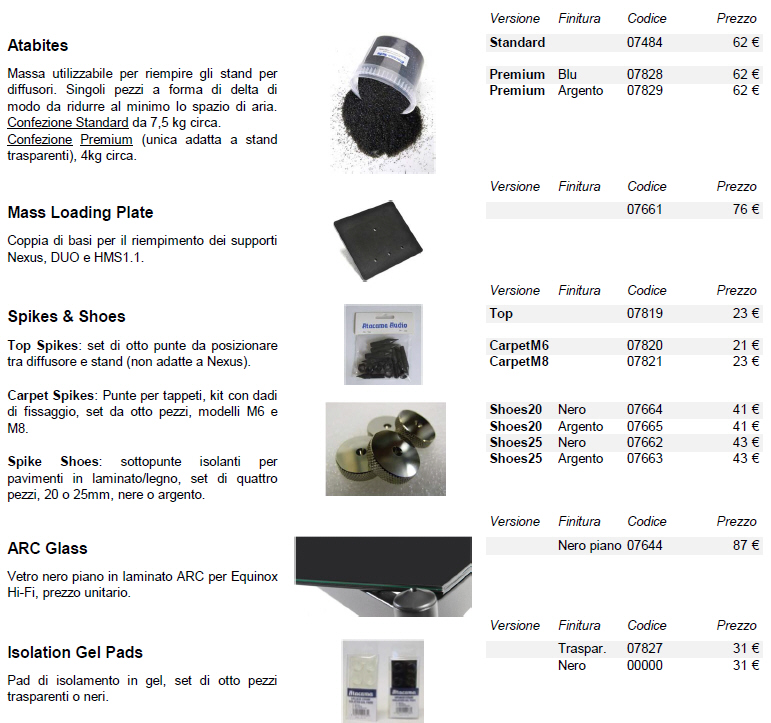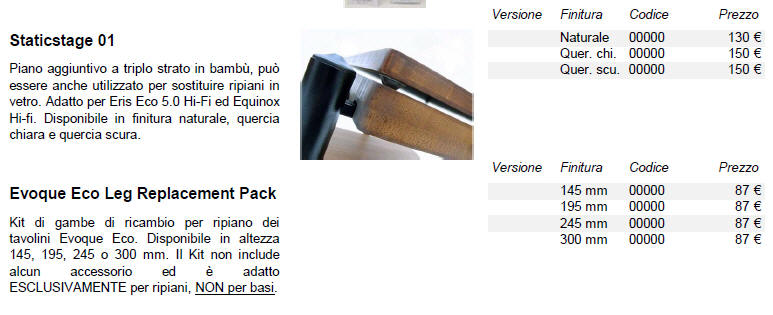 ---

---
Legenda istruzioni

Clicca per qui per vedere : FOTO PRODOTTO

Clicca per qui per vedere : ISTRUZIONI PRODOTTO

Clicca per qui per vedere : CATALOGO,PROVA RIVISTE SPECIALIZZATE PRODOTTO
---



Se su un prodotto presente o non presente nel nostro catalogo ci puoi richiedere il prezzo scontato ti faremo la migliore offerta . Essendo rivenditori ufficiali Italia le aziende ci chiedono di non creare turbative di mercato pubblicando prezzi scontati non ufficiali .Se hai trovato un prezzo più basso* in rete , segnalacelo e noi faremo di tutto per applicare quel prezzo. Altrimenti fai tu un'offerta e noi la valutateremo. La segnalazione può essere effettuata via email, all'indirizzo info@newaudio.it , oppure telefonando ai numeri 0174 670100 o 0174 481045 .

*Per prezzo più basso si riferisce ad offerte praticate sul Web da aziende che sono distributori ufficiali con sede in Italia , con regolare fatturazione e garanzia italiana fornita dal distributore ufficiale. Qualora il prezzo da confrontare fosse riferito a venditori esteri o che non offrono le caratteristiche suddette, queste non verranno prese in considerazione.
---
Attenzione
Per ordinare o avere gli ultimi prezzi aggiornati telefona al 0174 670100 o invia un E-mail a :
Il presente listino sostituisce ed annulla ogni precedente. I prezzi indicati si riferiscono a singolo diffusore.
Le caratteristiche e i prezzi indicati possono variare senza preavviso telefonare o inviare un e-mail per ulteriori domande e conferme sui prezzi sopra riportati. Prezzi franco nostro magazzino
---
Nota bene Tutti i marchi citati nel presente listino sono di proprietà e registrati alle rispettive Case Produttrici